Large shallow bowl-dragonfly pattern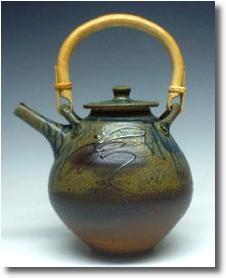 Teapot-dragonfly pattern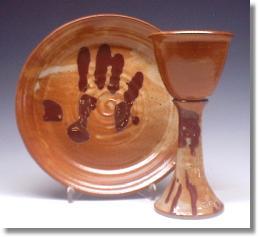 Communion set-shino and copper red
As of January 2003, I have been making pots for 27 years. My work has gone through many transitions since then, I'd like to think for the better. My latest body of work, the dragonfly pattern, is more of a story telling medium than ever before. For thousands of years pots have told stories about their makers and the cultural context they were created within. The slip-trailed dragonflies and fish that adorn my pots speak of fishing adventures with my dad, my son, and my friends. They also tell a story of faith, and my spiritual journey. My hope and prayer is that they will grace their owner's homes with a simple unobtrusive presence, occupying their space well, especially when called into service. My work is stamped with a stylized TG, and a fish hook, which serves as a reminder of symbols used by 1st. Century Christians.

My family home, studio, kilns, and gallery are located not far from Seagrove, a community known for it's potters for over 200 years. We are open 10-5, Mon-Sat, just about year 'round. We welcome visitors, but suggest that you e-mail first if coming from some distance. Seagrove is home to approximately 90 potteries, and now has a bed and breakfast, the Duck Smith House. With so much to see and do (NC Zoological Park and one of 2 remaining covered bridges in NC are nearby), an overnight stay may be in order. Asheboro is less than 15 minutes away, and hosts motels, fast food restaurants, and a few excellent Mexican and Thai restaurants. The Bed and Breakfast at Laurel Ridge is only an hour away in Siler City, and is hosted by our good friend, David Simmons. The golfing community of Pinehurst is about 45 minutes away.
Be sure and sign up for our e-mail newsletter! We will notify you of new work, updates to our personal Web site, and kiln opening schedules.

Zoom to our personal site (n2clay.com) to see more pot photos and what makes us click.