Laurie Karnatz was an award-winning journalist whose interest in ceramics was renewed after the death of her daughter in early 2002. The work began as a tribute to Leslie. It quickly turned into a lifestyle.
Specializing in fine art nudes, fishes and living decor, every item is handmade in Laurie's open-air studio facing Sacarma Bay on Cudjoe Key. Much of Laurie's work reflects the serene oceanfront setting and the unique nature and environment of the Florida Keys, where she has lived and worked for more than a decade. With work tables overlooking the luminous blue waters of the bay, and further out, the Florida Straits, inspiration is easy to find.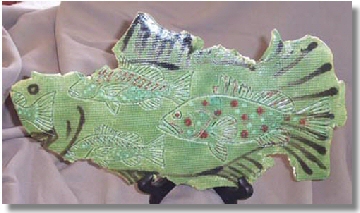 Once an avid fisherman, she now only occasionally fishes for dinner off her dock. Some of her fishes are whimsical, others realistic: grouper, snapper, tuna and snook are her favorites.
Known for a sometimes wicked sense of humor, one of her favorite wall hangings, titled "Where's Harry", is of a school of snapper.
"Whenever I fish from the dock, I can catch four or five snapper before they catch on and quit biting," she said. "I figured they'd noticed their numbers shrinking. Thus, 'Where's Harry.'"
Laurie's fish plaques and wall hangings range in size from about 5"x7" to 22"x22".
All of Laurie's work is made from scratch, so to speak, without benefit of a wheel or molds of any sort. Laurie's carvings and etchings also are done by hand without aid of purchased stencils or other commercial products.
Laurie Karnatz Ceramics was established in early 2004 to provide outstanding ceramic art for decorative and utilitarian use. Her one-of-a-kind works are showcased in private homes from South Florida to the Texas coast and north to New Hampshire.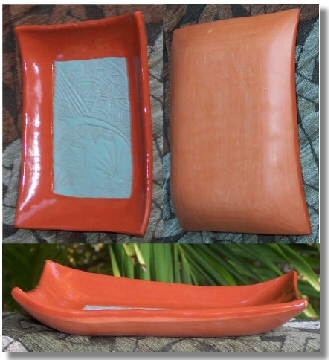 Platters, trays and casseroles are always handy. Laurie makes a variety of sizes and shapes. Some are plain, others are hand-carved and painted with fishes or her distinctive "doodle", which is known to everyone with whom she has worked in the past 20 years.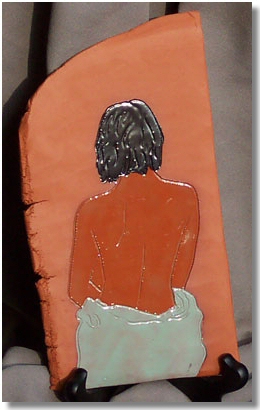 Laurie's subjects are for the most part real people: Friends, models and the occasional family member. Laurie's plaques and wall hangings of female nudes range in size from 5"x7" to 12"x22". Every piece is one-of-a-kind.