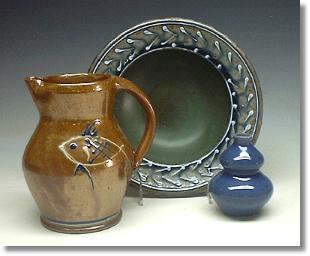 Blaine and Laura Avery opened Avery Pottery & Tileworks in August 2002 in Seagrove, NC. Prior to moving to Seagrove, the couple both maintained studio spaces at Cedar Creek Gallery in Creedmoor, NC.

For the past twelve years, Blaine has worked as a full-time studio potter, exhibiting his work at many craft shows and galleries along the east coast. Heavily influenced by traditional folk art, Blaine's pieces combine traditional forms and decorations with an intuitive sense of the contemporary, a process that takes the pieces to a level beyond their given function. Rather than following popular ceramic trends, Blaine's inspiration is taken from the past. The timeless refined forms of early American folk pottery, this is the foundation of his work. Drawing from early American folk art for inspiration, Blaine also enhances his shapes, using slip-trailed patterns inspired by textiles and animal additions as handles, knobs, and spouts. His work is a harmonious relationship of past and present, of traditional ideas and new expressions.



After earning a BA in Ceramics from Meredith College in Raleigh, NC, Laura has since maintained a studio as a full-time tilemaker, and has sold her work in many galleries and craft shows. Her work is heavily influenced by architecture, as well as the imagery of the Art Nouveau and Arts & Crafts movements. In the summer of 2001, Laura was fortunate to study for three months at the Moravian Pottery & Tileworks in Doylestown, PA, where she developed an interest in mosaic work. She now creates one-of-a-kind wall pieces and mosaics that are heavily influenced by the architectural elements found on early twentieth-century terra cotta buildings. Laura also produces a line of art nouveau-inspired tiles, which are available as art pieces or for custom installations. With a strong background in design, Laura uses clay to create individual installations which echo elements of the past, while incorporating her own sense of aesthetics.

Avery Pottery & Tileworks is open from 10-5 Tuesday-Saturday and by appointment. Custom installations are accepted on an individual basis, as time allows. Please call for more information, or to schedule your next project.
---
Some Recent Exhibitions:

Solo Gallery Exhibitions
North Carolina Craft Gallery, Carrboro, NC - 2000, 2002
Collective Arts Gallery, Raleigh, NC - 1999
Green Tara Gallery, Carrboro, NC - 1998

Group Gallery Exhibitions
Carolina Designer Craftsmen Guild Member, Raleigh, NC - 2002
Pullen Arts Center, Raleigh, NC - 2001
Strictly Functional Pottery National, Lancaster, PA - 2001
Green Tara Gallery, Carrboro, NC - 2001
Mug Invitational, Cedar Creek Gallery, Creedmoor, NC - 2001
NC State Craft Center, "From These Hands", Raleigh,NC - 2000
National Teapot Show Cedar Creek Gallery, Creedmoor, NC - 1999,2002

Commissions
Private kitchen installation, Durham, NC - 2003
"Best in Show" Triangle Parade of Homes, fireplace installation - 2001
Flad and Associates Architects - 2001
North Carolina Trust, Raleigh, NC - 1999